Cartier Love Bracelet Size 17, Rose Gold, 2017
Lux918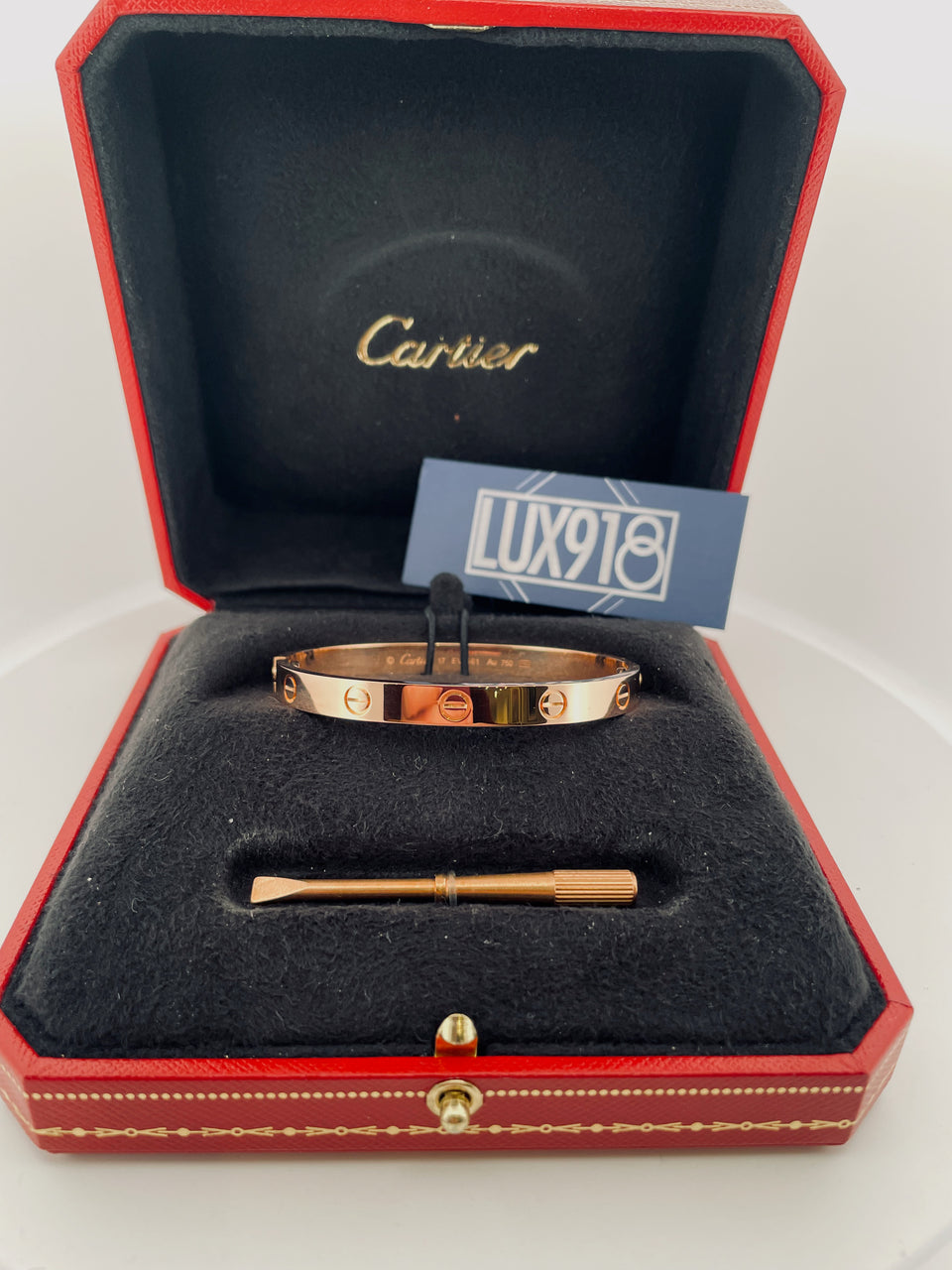 This is one of the most famous designs in Cartier's long history and while the design dates to the 1970's they have had a handful of minor design & functionality tweaks since then and this piece features the best change, which is that while it still separates in half and uses the Cartier Screwdriver, the screws are attached to the bracelet and thus don't fall out (you can't lose the screws). 


This example is made of Solid 18K Rose Gold, making it a bit different and more special than those in the more common Yellow or White Gold. 


As they are an oval shape and not completely round, I cannot give you an accurate length for the bracelet, but it is a size 17 which is the most popular size for women.
If you do not know what size you wear, Cartier has a handy "ruler" on their site for measuring to determine what size is best for you & the fit you prefer.
Authentic Cartier Love Bracelet
Solid 18k Rose Gold 
Size 17 (centimeters)
Classic Size at 6.1mm wide (not the "small" variant)
Paperwork Dated from 2017 
Full Cartier Boxed Set which includes:
Cartier Outer Box
Cartier Display Box
Cartier Document Holder
Stamped/Dated Cartier COA with unique serial #
The ubiquitous Gold (tone) Cartier Screwdriver

**Lux918 is not affiliated with Cartier or the Richemont Group in any way, we simply offer unique and hard to find pieces from assorted luxury brands to our clientele. Any and all warranty work will need to be handled with the brands directly. This piece falls under our specialty returns/exchange section for "Pre-Owned/Rare/Unique" Items, if you have any questions please read the return policy for such pieces or send us a message.