Pomellato Italy, Gold and Diamond Convertible Necklace
Lux918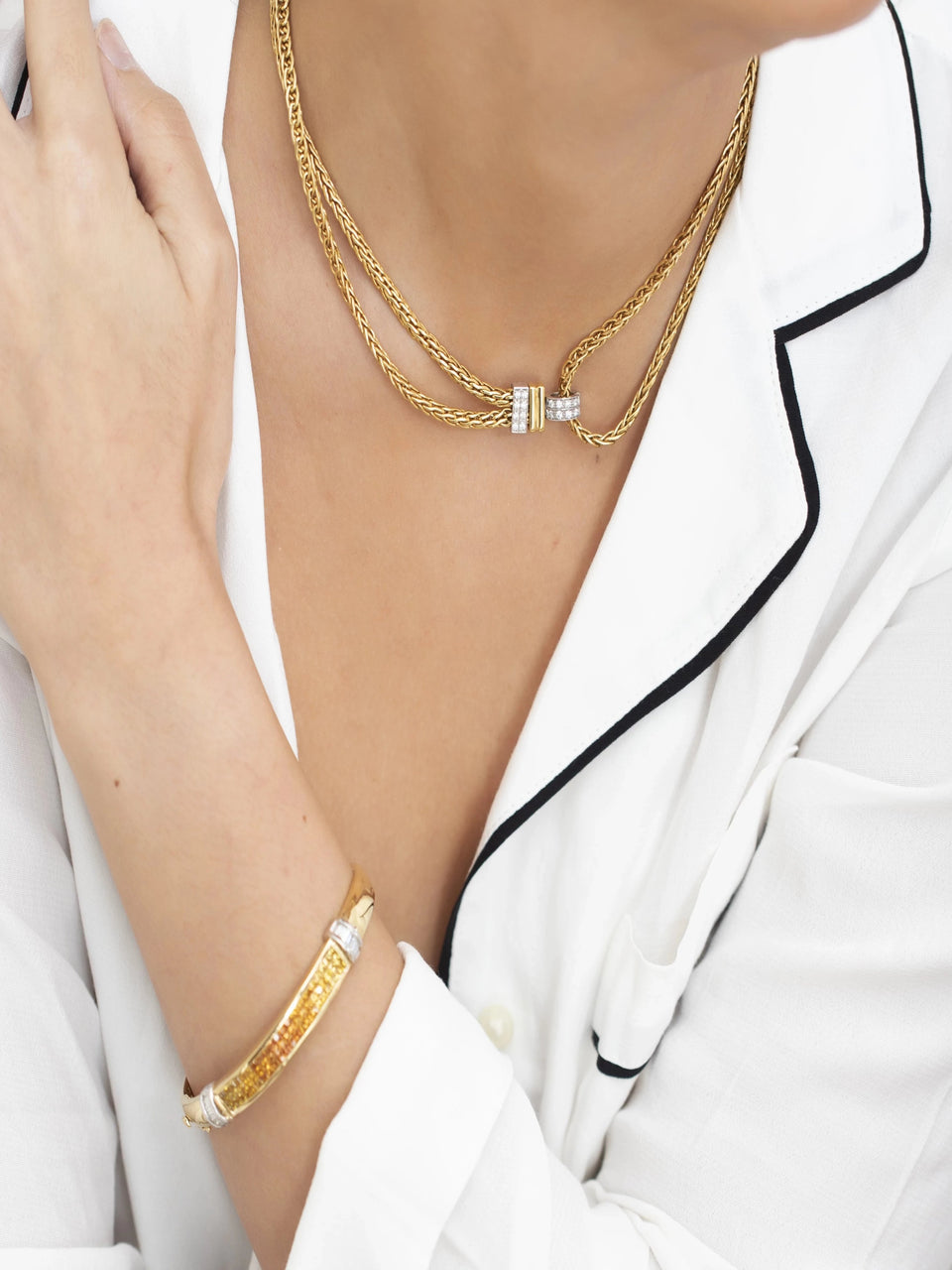 For your consideration is this Stunning Estate Piece from the World Renowned Italian Designer Pomellato. The main body of the necklace is made of a Woven Dual Row 18K Yellow Gold "Spiga" Chain, while the Centerpiece is the Elaborate & Intricately Designed 18K White Gold & Diamond Sliding Clasp that allows for the piece to become a more sophisticated take on the Lariat Necklace.
The length can be adjusted from 16" as a Choker all the way to a long and more formal 32", in which case the Diamond Bar & Clasp could either serve as a pendant or hold one (when being worn at a shorter length this Clasp is used to attach to the other portion of the Chain).
The quality speaks for itself and it features a perfect balance of White & Yellow 18K Gold with a total weight of 55.98 Grams along with .40CTW of VS1-VS2/F-G Brilliant Round-Cut Diamonds.
It is fully Hallmarked and signed "Pomellato" on the back of the Clasp along with with the Italian Assay Markings for 18K Gold.
This is a spectacularly rare find and one that is almost never seen in such immaculate condition, and with the original Pouch & Box and here is your chance to own this stunning piece of jewelry for a fraction of the price of the few other examples we have seen go up for sale in the past few years. 
Details:
Convertible 18K Yellow & White Gold Necklace, With Diamond Bar & Clasp

3mm Wide "Spiga" Style Chain in 18K Yellow Gold
Total Gold weight of 55.98 Grams

.40CTW of VS1-VS2/F-G Brilliant Round-Cut Diamonds

No Major Signs of wear (Dents, Missing or Broken Links) or any other damage 

This piece will come complete with its original Pomellato Box & Pouch
*Any other background items are just there for contrast/size, and are not included*

**We are in no way affiliated with Pomellato Italy or any of its subsidiaries, we are selling this as a pre-owned estate piece, and thus do not provide the warranties you may receive if you were to have purchased this piece from one of their locations. This piece also is both a "unique" & "pre-owned" item and returns or exchanges related to its sale fall under the modified return policy we have for our Curated Collection of Unique Luxury Goods, if you have any questions regarding that policy we would highly suggest checking out our returns page.**
If you have any other questions about this piece, you can reach us via email at:
sales@lux918.com