Rolex Daytona 116520, "Rainbow Daytona"
Lux918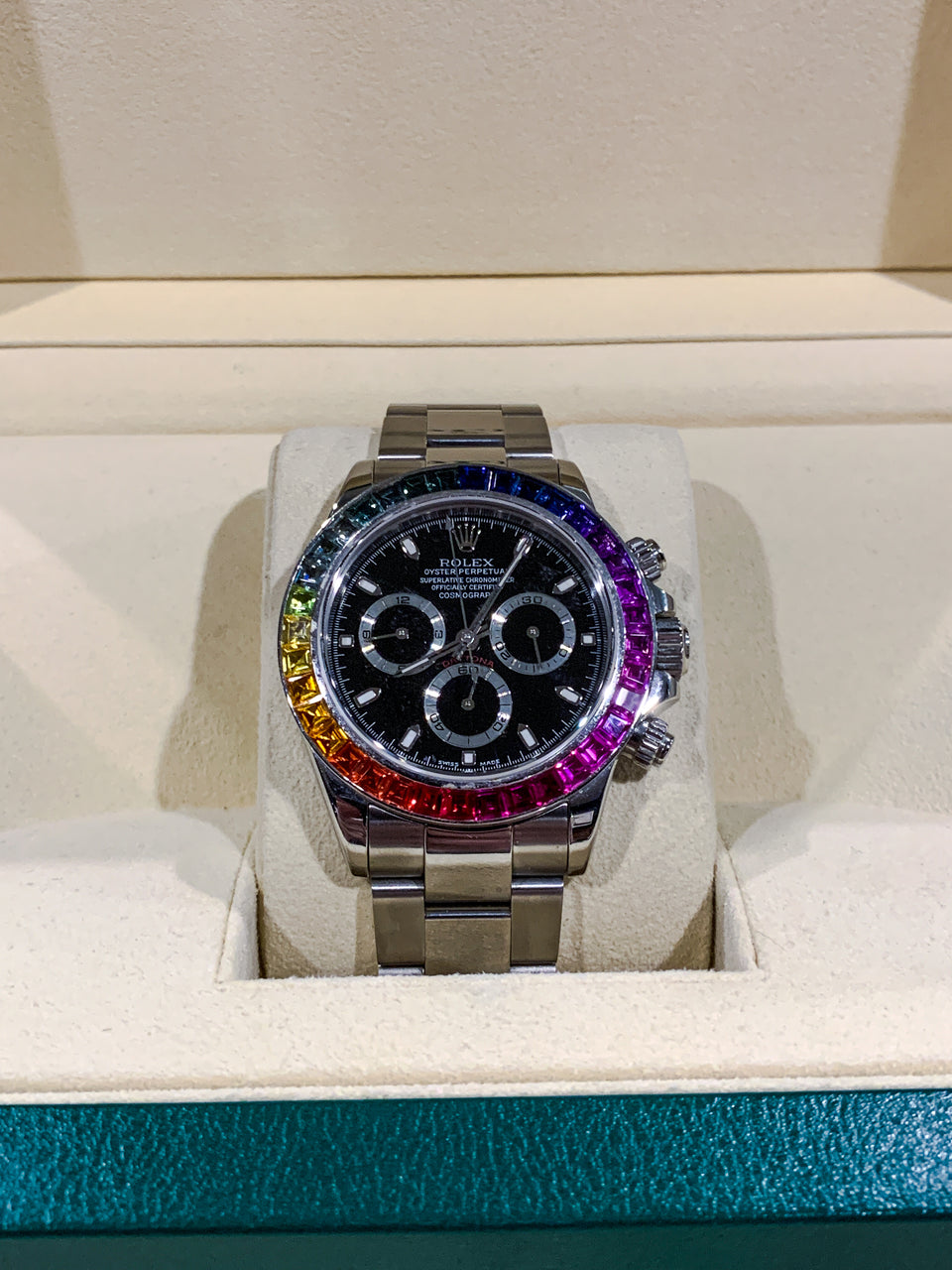 This is a gorgeous Custom Rolex Daytona that we had commissioned for our founder as a celebratory piece for our first full year in business.
But going in to the Holiday Season & thus the end of the year, he has decided to sell it to help fund the future of our business. 
So, we have here a Stainless Steel Rolex Daytona 116520 Black Dial with a near perfect Natural Rainbow Gradient Sapphire Bezel. This watch has been to numerous Authorized Rolex dealers that had to get magnifying tools to confirm it wasn't a factory piece as they had never seen one before. That speaks to the quality of the Baguette Cut Stones & Invisible Channel Settings employed to create the bezel for this Daytona. 
A factory OEM Rolex "Rainbow Daytona" costs roughly 10x our asking price (yes, they are over $200k). And the only visibly noticeable difference is diamonds on the lugs and a different and more flashy dial. Our Custom variant offers similar unique qualities without the price point & a bit less flash. 
*Price reflects the use of any payment processor that charges a % fee, we offer a 3% discount if the piece is paid for with a Bank Transfer or Bank Wire. (If interested in paying this way please send us a message at Sales@lux918.com) 
Details:
Rolex Daytona 116520 with Black Dial (OEM)
Custom Natural Rainbow Sapphire Bezel
Near perfect color gradient & symmetry 
Stainless Steel Case/Bracelet/Deployant Clasp (all OEM Rolex)
Rolex Box that came with the Daytona when purchased
No factory paperwork, but the only non-factory Rolex part on this watch is the Rainbow Bezel
Dark Blue Everest Rubber Strap included, fits the Rolex Clasp
Recently went through a function check and had any necessary internal parts replaced by a professional Watch Repair Facility using all OEM parts (as needed)
Stainless Steel Bracelet & Case has been cleaned & polished to shine like a new watch
**This was is being sold by Lux918 & we have no affiliation with Rolex or any of their affiliates**


Please ask any and all questions you have prior to purchasing. We do have a Satisfaction Guarantee on everything we sell, however due to the nature of a piece like this there is a modified version of this for all of our pre-owned items, and you should check out that policy in our returns section.